The surviving Boston bombings suspect is so seriously injured that investigators may struggle to interrogate him effectively, it was suggested on Sunday, as further questions were raised about the FBI's previous contacts with his dead brother.
Dzhokhar Tsarnaev, the 19-year-old who is accused of planting the pressure-cooker bombs with his older brother Tamerlan that killed three and injured more than 180 at the Boston Marathon last Monday, was being treated in hospital for a reported bullet wound to the throat and was unable to speak. He was captured on Friday night, a day after a violent gun battle with police that left his brother, Tamerlan Tsarnaev, 26, dead.
Boston mayor Tom Menino told This Week on ABC that he was so seriously ill that agents might never be able to interrogate him. "We don't know if we'll ever be able to question the individual," he said.
Dan Coats, a Republican member of the Senate intelligence committee, told ABC: "The information that we have is that there was a shot to the throat. It doesn't mean he can't communicate, but right now I think he's in a condition where we can't get any information from him at all."
FBI 'dropped the ball'
As the FBI waited to question Dzhokhar Tsarnaev, it faced intense scrutiny over its prior contacts with his brother. One congressman accused the FBI of having "dropped the ball".
The bureau admitted that it interviewed Tamerlan Tsarnaev in early 2011 at the request of a foreign government, believed to be Russia, which had concerns he was linked to Islamist terrorism. The FBI said it concluded he was not involved in terrorism, and was left scrambling at the weekend to find out more about a six-month visit he made to Russia in 2012.
There was also concern on Sunday about how federal investigators would deal with Dzhokhar Tsarnaev if he recovers sufficiently to be questioned and tried. He was not read his Miranda rights, the process under US law that would have informed him of his right to remain silent, when he was detained. Ordinarily that would mean that any information he provided before being read his rights would be inadmissible at trial, but Carmen Ortiz, US attorney for Massachusetts, cited a public safety exception that is intended to prevent the public from immediate danger.
An expansion of the public safety exception to Miranda rights by the Obama administration is the subject of controversy, and civil rights advocates expressed concern about how it would be applied. The American Civil Liberties Union said the exemptions should not be "open-ended" and that America "must not waiver from our tried and true justice system".
That was not a concern for some political figures, who claim there is enough evidence against Tsarnaev to outweigh the advantages of reading him his Miranda rights. Deval Patrick, the governor of Massachusetts, described "chilling" surveillance video from the Boston Marathon bombings which showed the younger brother at the heart of the attacks. The film shows him dropping his backpack and calmly waking away before the bomb exploded, Patrick said.
"It does seem to be pretty clear that this suspect took the backpack off, put it down, did not react when the first explosion went off and then moved away from the backpack in time for the second explosion," Patrick said on NBC. "It's pretty clear about his involvement and pretty chilling, frankly." Patrick conceded that he had not viewed all the tapes but had been briefed about them by law enforcement officials.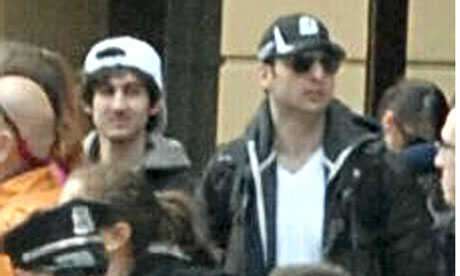 Tamerlan and Dzhokhar Tsarnaev at the scene of the Boston Marathon bombing, in a picture released by the FBI.
More details emerged at the weekend of the suspects' race to evade capture. As the authorities closed in on Thursday night in the Watertown area, the Tsarnaev brothers are accused of killing an officer with the Massachusetts Institute of Technology police, severely wounding a Boston transit officer and engaging in a frenzied car chase and shootout during which they bombarded officers with explosives, including a pressure-cooker bomb.
The chief of Watertown police, Edward Deveau, said officers attempted to tackle Tamerlan Tsanaev when he ran out of ammunition, but had to take cover as his younger brother drove a carjacked Mercedes at them. The SUV dragged Tamerlan's body down the block, he said. The suspect was taken to hospital, where he was pronounced dead. Meanwhile Dzhokhar Tsarnaev escapted on foot. He was eventually captured late on Friday night after a resident discovered a bloody trail leading to a boat in his backyard. He was taken to Beth Israel Deaconess Medical Center, where security was tight on Sunday.
As authorities guarded Tsarnaev, attention turned a trip to Russia in 2012 by his older brother. His family has claimed Tamerlan Tsarnaev went to Dagestan to visit his father, but an aunt, Patimat Suleimanova, told the Guardian on Sunday that he arrived in the area before his father. She said Tamerlan Tsarnaev left the United States in January 2012 and arrived in Dagestan around March. His father, Anzor Tsarnaev, only arrived in the republic in May. "He came to become acquainted with [Dagestan]," Suleimanova said. "He would sit at home and pray. He was learning to read the Qur'an. He saw relatives, friends."
She hinted that times had become tough for the brothers after their father left the United States for Dagestan, followed a couple of months later by their mother, Zuneidat. Anzor Tsarnaev had bought a ticket for the United States for 16 April, she said, because the brothers were having money problems. "He would send money from here when he could," she said.
US officials are investigating whether Tamerlan Tsarnaev built links with Dagestani rebels, fighting a heavy police state in order to build an Islamist caliphate along Russia's southern flank. Dagestan's main rebel group denied any links with the attack in a statement released on Sunday.
'His views aren't mainstream'
The FBI was criticised on Sunday for failing to follow up on Tsarnaev after its contacts in 2011. Senator Lindsey Graham, Republican from South Carolina, told CNN's State of the Nation: "The ball was dropped in one of two ways. The FBI missed a lot of things."
Republican Peter King, chairman of the House subcommittee on counterterrorism, was also critical. "This is the firth case I'm aware of where the FBI has failed to stop someone," he told Fox News Sunday, citing the cases of al-Qaida recruiter Anwar al-Awlaki, Little Rock shooter Carlos Bledsoe, the accused Fort Hood killer Nidal Malik and alleged American-Pakistani terrorist David Coleman Headley.
The New York Times reported on Sunday that a hold was placed on a citizenship request by the 26-year-old as a result of the FBI's former interest in him. Officials at the Department of Homeland Security decided not to grant his application after a routine background check uncovered the 2011 interview by agents, the report said.
The Los Angeles Times reported on Sunday that Tamerlan Tsarnaev had been asked to leave a mosque in Cambridge, Massachusetts, three months ago, after he interrupted a prayer service to argue with the imam, who had referred to Martin Luther King Jr. A member of the mosque present at the service told the LA Times that Tsarnaev shouted: "You cannot mention this guy because he's not a Muslim!"
Imam Suhaib Webb, of the Islamic Society of Boston Cultural Center, the city's largest mosque, said in an interview that he had recently heard of the incident. "That's a sign right there that his views aren't mainstream," Webb said.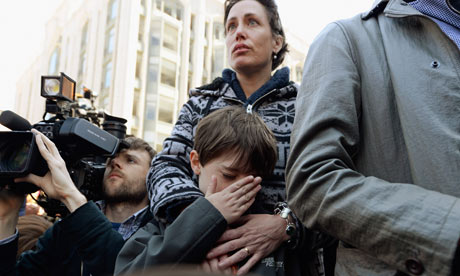 People participate in an interfaith memorial service on Sunday near the site of the Boston Marathon bombings. Photograph: Kevork Djansezian/Getty Images
Bostonians gathered to remember the victims on Sunday. A few blocks from where the bombs exploded less than a week ago, hundreds packed into the Church of the Covenant in Boston. The church had thrown open its doors to worshippers from the city's Old South Church, located in the police area still closed off to the public, and most of the pews were full as the service began.
The scale of the bombings was immediately apparent as around half the congregation responded to a request from Rev Dr Jim Antal, president of the Massachusetts United Church of Christ, to raise their hands they were near the explosions or knew someone who was. "Now raise your hand if you have visited or spoken with someone who was injured," Antal said. Dozens of people had.
A few miles north-west of Boston, in Medford, the family and friends of Krystle Campbell, 29, one of three spectators killed by the attacks on the Boston Marathon, held a wake for her on Sunday. The two others killed were Martin Richard, eight, of the Dorchester neighbourhood of Boston, and Lu Lingzi, 23, a Boston University graduate student from China. The university is holding a memorial service for Lingzi on Monday. (The Guardian)