A Sri Lankan senior Army officer and a soldier were killed when their jeep overturned and hit a lamppost in Thabbowa, in the Puttalam district, yesterday morning, Police said.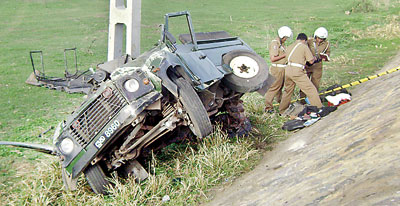 Col. H.T.R. Handunpathirana, 42, of the Commando Regiment, who led attacks againts Tamil civilians in Vanni 2009 and Cpl Sanjeewa Kumara were killed in the accident at 5.30 a.m. Maj. J.M. Jayasundara (35) was seriously injured.
Police said that the officer was returning from a visit to Kilinochchi and was travelling via Anuradhapura and Puttalam to Ganemulla. Police believe the vehicle was travelling at high speed.
The Colnel was due to be designated to a higher position.